WELCOME EVERYONE
Statement of Purpose
We are a community group called Maine Stands Up, which is a branch of Pam Popper's Make Americans Free Again movement. Our purpose is to support and maintain medical and civil freedoms for ourselves, our families, and our larger communities. We are non-partisan and apolitical. All are welcome here, regardless of faith, creed, nationality, ethnicity, age, gender identity, or sexual orientation. The only requirement for membership is a desire to stand for freedom and build community.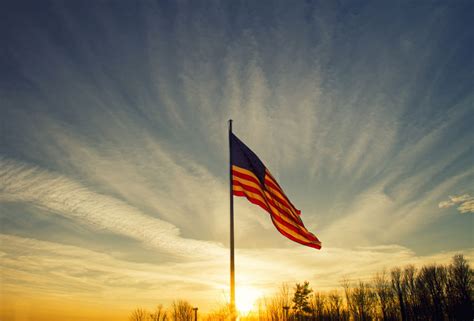 "In the long history of the world only few generations have been granted the role of defending freedom in its maximum hour of danger. You are that generation, this is your role and now is the time."

John F. Kennedy
A Special Message
Death Health Freedom Family,
Each time I attend a Maine Stands Up meeting, my faith in humanity– and in the steadfastness of Mainers– is restored. As you may know, I work with doctors, scientists, lawyers, and freedom warriors from all over the world. But there is nothing quite as health-promoting and uplifting as meeting with and hanging out with my fellow Mainers face to face during this time of The Great Awakening. (I'm referring to the astrology of this time, which has been foretold for decades).
These meetings remind me [or] As my trainer keeps telling me, we don't get stronger muscles unless we lift heavier weights. And it is the same with standing for our sovereignty and human freedoms. We were not designed to be socially distant or have a covering over our noses and mouths. Instead, We were designed to rise as a human collective sharing poetry, dance, music, song, food and all the things that truly make life worthwhile. And that, along with our lawsuits against tyranny, is what Maine Stands Up is all about. We are fast becoming a new soul family of individuals who stand with each other to be as healthy, strong, and interdependent as we can be.
– Christiane Northrup, MD
Group Meetings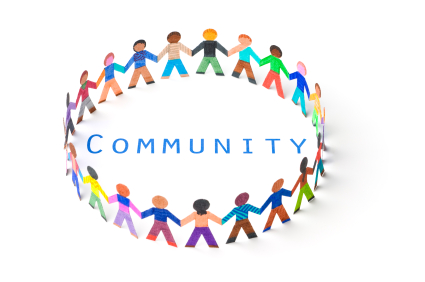 Our goal is to have meetings in every county!
Are you or is anyone you know in these counties?
Piscataquis, Somerset, Aroostook, Sagadahoc, Kennebec, Lincoln, Washington, Oxford, Penobscot
If so, we invite you to consider hosting meetings. We have compiled a variety of resources to help you hit the ground running – you are not alone!
Upcoming Events
(for more information, check out our calendar):
May 29th, 4-9pm: Outdoor Community Gathering, Old Orchard Beach, reach out to Randy for more details
May 29th, 8am-1pm: Belfast Banner Day. For more information and to offer help, see the event page on our website
June 4th, 11am: Spring Swap & Life Celebration, Belfast. More details on our website!
June 5th, 8am-noon: Multi-Family Yard Sale, Belfast. More details here.
June 12th, 6-10pm: Stand Up and Speak Easy, Dresden, ME – MSU's first major fundraiser! (Tickets: $33, purchase here)
June 16th – save the date for a sit-in in Augusta
Meadowsweet Camps for kids: beginning June 7th in Freeport. Dance/movement, Forest Dwellers, Magic Potions, Art & Science, Fairies, Nymphs, & Gnomes! See our calendar for more details.
We are also looking for an event space that can hold at least 200 people in the Cumberland county area. Please email us if you have any leads!
Special Events
Maine Stands Up Fundraiser
Please Share With All Your Friends and Family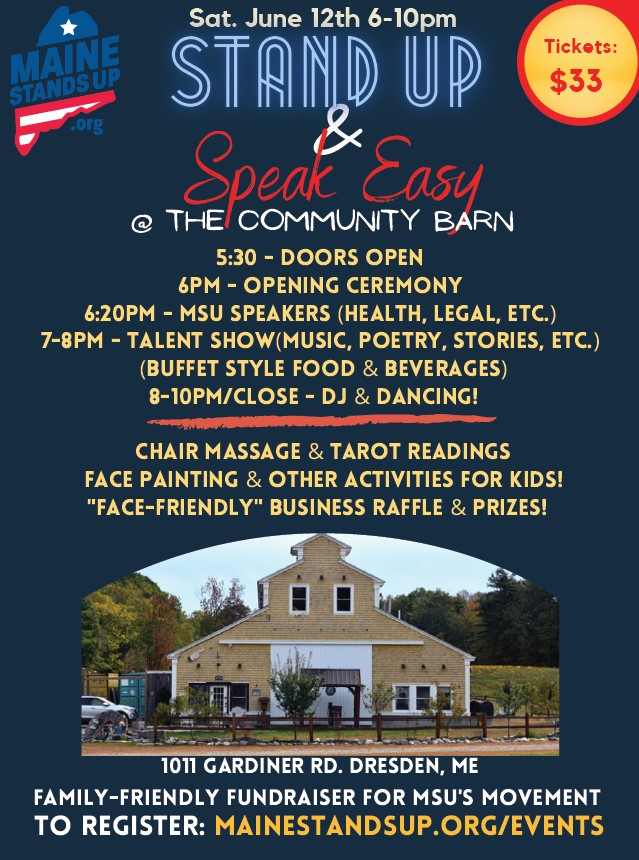 Legislative Updates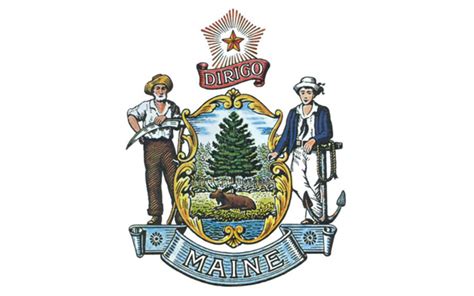 There's still time!
On May 6, 2021 four bills impacting Maine's vaccine rules and regulations were heard in the Committee on Education and Cultural Affairs. Each bill received overwhelming support from Maine citizens.
the next step is to bring the bills before the entire Maine State Legislature for a full vote.
A Special Message from Gina LeDuc-Kuntz who leads the Maine Legislative Watchdogs Facebook page:
"When I think back to last year at this time, I recall being suddenly impassioned that "something must be done" to end this lockdown and the State of Emergency Gov. Mills had been holding us all in, at that point in time, for the past six weeks or so. It has been nearly one year since that day in May 2020 when I launched "MOMS: Mothers Opposing Mass Shutdowns" in an effort to raise awareness surrounding how Covid policies are impacting our children's mental health.
MOMS saw some modest success. We organized parent groups to attend school board and Town Council meetings, advocating for reopening schools and returning our children to full-time learning. We talked with other concerned parents and we just "held space" for the then very fearful parents to find some community, build relationships and gain the courage to speak truth to power on behalf of our collective children's wellbeing.
I recall, at times, being conflicted as to whether advocating for school reopening was the right choice. Maybe schools should stay shut. Maybe this covid situation was God sent to finally tear down the established school systems and start over.
That thought was a great sentiment, but not entirely realistic. Many parents do not have the ability to keep their kids out of public school indefinitely or elect anything but public school. After gaining clarity on this, the thought of not advocating for school reopening, even if my own children would not be joining that reopening, became unbearable.
Simultaneously, as the veil had been lifted off our collective eyes, leaving our neighbors' children in schools so inadequate, so fundamentally disturbed, so hostile to the child is equally unbearable.
We are morally obligated to reverse the current reality being offered to our children.
Now we find ourselves in May 2021 and we are still not "back to normal." Our children are still suffering, many not attending school full-time and pondering when this Covid scare will end so their lives may begin.
We are being called to take action for our own and all children, even if the actions appear insignificant and the obstacles insurmountable, we cannot believe we have lost before we have begun.
Testifying on proposed legislation impacting our lives and our children's lives is one course of action we can take as advocates. Some legislation we will win, some we will not. The legislation we do not win, our testimony will serve as the foundation to support our story about how legislators have elected to ignore or dismiss our concerns.
These stories will be powerful and will help us turn the tide in the future."
Legal Action
Within the last week, the CDC updated their mask guidance for those who have been vaccinated contrary to very recent guidance that the vaccinated should stay masked. Another instance of the constant flip-flopping of our public health authorities. Governor Mills had soon thereafter acknowledged CDC guidance and had confirmed that Maine's guidance would be following their lead. As of 5/24/21, vaccinated could choose to mask. To our surprise, on 5/19/21, Governor Mills signed Executive Order 39 FY, An order to repeal certain face-covering requirements, and it actually includes all people except for school children, vaccinated or not, could choose to mask. You can view this order and other recent orders here. We are disappointed that school children were targeted, but not surprised considering that the goal seems to be to vaccinate our children before allowing them their right to oxygen.
Coincidentally, just previous to that on 5/15/21, Maine Stands Up filed an amended claim. The government has yet to respond.
To read the full breakdown on the original claim and more, see the 4/25/21 Newsletter on our website.
---
Another landmark petition this week with the help of Tom Renz, and our very own Floyd (Ron) Jenkins!!

Along with others, Tom and Ron are standing up for human rights and medical freedom, having filed a suit in federal court in Alabama to end all Covid shots for children 16 and under. They were hired specifically for this by Americans Front Line Doctors. This lawsuit has implications for the entire nation, including Maine. The reason it was filed in Alabama is that the judges there were deemed to be more friendly to the case than in many other states.
In an interview with Scott Kesterson of Bards FM on this recent case, attorney Tom Renz spoke clearly and strongly about why this Covid shot madness must be stopped. It is crucial that as many people as possible educate themselves on the real science and the real data behind this Covid agenda. Bottom line: there is absolutely NO EVIDENCE that this shot is safe or effective for anyone, let alone a child. Worse, it is downright dangerous and has already resulted in heart attacks in a number of children. Also— children are at no risk for getting Covid.
Two ways to learn more:
Bards FM Podcast
https://www.podbean.com/ei/pb-7e98f-1042cd1
Tom Renz interview in video format
https://www.bitchute.com/video/xMdiQI1z5UYj/
Brief Description:
America's Frontline Doctors filed a petition for a temporary restraining order against the U.S. Secretary of the U.S. Department of HHS, Xavier Becerra.
Here's why:
Children are not guinea pigs: There is a statistically zero percent chance of young people dying of COVID-19. To promote an investigational product that has no long-term studies and no animal studies, to pressure parents and teens to use an experimental product that has not been fully approved by the FDA breaks all of the rules of medicine and the HHS' own goal to protect Americans.
The expansion of the Emergency Use Authorization (EAU) for younger children is all risk and no benefit.
HHS is ignoring the science and the data.
HHS is betraying its mission to, "enhance the health and well-being of all Americans…and by fostering sound, sustained advances in the sciences underlying medicine, public health, and social services."
Sadly, millions of parents are being misled by HHS Secretary Becerra and the FDA, and we are calling on the Federal Courts to stop Becerra and compel HHS to suspend the promotion and rush to administer a vaccine that has not been fully tested and approved.
COVID 19 Vaccine Side Effects: We've never seen this level of side effects for any vaccine without the FDA taking action. The Rotavirus vaccine was canceled for 15 cases of non-lethal side effects and the Swine Flu vaccine was canceled for 25 deaths. But now, by the CDC's own data, we are seeing a 12,000 percent increase in deaths with these vaccines and they're still promoting this to our kids.
Support the Science: Under the age of 20, the survivability rate for COVID-19 is 99.997 percent. More than 4,000 deaths have been tied to the administering of COVID-19 vaccines in the last four months as opposed to 1,500 total in the previous ten years for all vaccines.
This last fact alone should be enough to STOP this dangerous vaccine. But HHS, the FDA and the CDC are ignoring the science and they are putting the lives of our children on the line. Thousands of doctors and physician groups across the world are demanding the vaccine rollout be stopped. But America's Frontline Doctors is the one group that is suing to make sure that the government does not continue down this dangerous road.
Please consider assisting America's Frontline Doctor's today with your gifts of support. Your donation of $25, $50, $500, or more will support our critical efforts to hold our elected officials accountable, inform parents, and protect children from harm.
---
Children's Health Defense Petition:

Your help is crucial.
On May 16, Robert F. Kennedy, Jr. and Meryl Nass, MD, on behalf of Children's Health Defense (CHD), took a landmark step in the COVID crisis that has irrevocably changed billions of lives around the globe by filing a Citizen Petition with the U.S. Food and Drug Administration (FDA) to withdraw COVID-19 vaccines from the market.
Your comment now on the FDA petition is vital in preventing further injuries and deaths from these experimental medical products. Let your voice be heard!
The actions of the FDA affect global health policy. This filing allows all of us—not just those in the United States, but people from around the world—to speak directly to the U.S. government by commenting on the petition.
Specifically, the petition calls upon the FDA to:
· Revoke the Emergency Use Authorizations (EUAs) for COVID vaccines
· Refrain from licensing COVID vaccines
· Disallow the participation of minors in COVID vaccine trials
· Immediately revoke all EUAs permitting vaccination of minors
· Revoke its tacit approval of pregnant women receiving COVID vaccines
· Immediately amend its existing guidance for the use of chloroquine drugs, ivermectin, and any other safe and effective drugs against COVID.
The FDA petition was imperative as our government health agencies continue to ignore the astonishing numbers of deaths and injuries being reported to the U.S. Health and Human Services (HHS) Vaccine Adverse Events Reporting System (VAERS). Updated each Friday, yesterday's data release reports 227,805 adverse events and 4201 deaths following vaccination with COVID-19 vaccines from mid-December, 2020 through May 14, 2021. Alarmingly, a 2010 HHS study found that less than 1% of adverse events are ever reported to VAERS. Despite this, government agencies at local, state and national levels continue to promote uptake of these vaccines. These agencies are joined by mainstream media, celebrities, and even the White House in calling for people of all ages to just "get the shot" despite the very real risk of injury and death.
All COVID-19 vaccines currently being administered were rushed through the Emergency Use Authorization (EUA) process even as doctors around the world are citing viable treatment options for COVID that are inexpensive and readily available. EUA status is intended for use only when effective treatment options can't be found. Clearly, this is not the case with COVID.
We are asking you to comment on the FDA petition now and urge the government not to mandate or license COVID vaccines. Please forward this email to all of your friends and relatives so they can comment too. If some of them are still undecided regarding the safety of COVID vaccines, please share this crucial information with them:
The Warnings Are Clear: Vaccinating Kids for COVID Is a Dangerous Gamble
What Does a "Safe and Effective" Vaccine Look Like?
COVID Vaccine Secrets Resources
We need to immediately stop the push for mandates, especially those aimed at children. The experimental COVID vaccines are already being recommended for 12-15-year-olds. It is only a matter of time before they recommend or mandate this vaccine for even younger children—including infants.
Please add your comment to the FDA petition now.
Thank you.
Sincerely,
The Children's Health Defense Team
P.S. Read more about the FDA petition: "CHD Calls on FDA to Immediately Take COVID Vaccines Off the Market"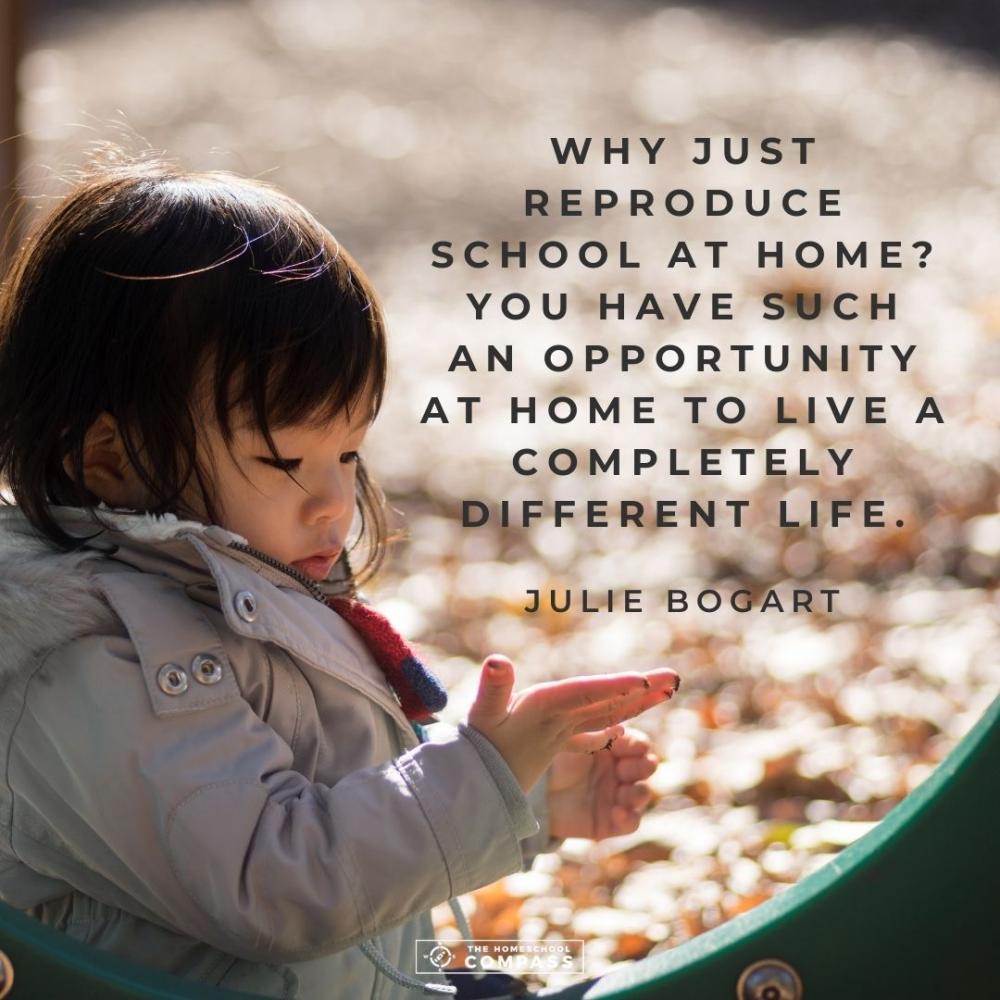 Education
Now is the perfect time to ask what is working and what is not about school & homeschool. Let's seize this opportunity to build a life that truly aligns with our values. Are you interested in joining the education conversation? Talk to your county's leader!
A Dose of Truth & A Pinch of Positivity
Watch for our new series!
The pandemic, restrictions, and treatments are being exposed to science and evidence along with solutions (Positivity).
Definitely watch The Highwire episode this week with special guest Dr. Richard M Fleming, a Physicist-Nuclear Cardiologist-Attorney.
Mindblowing information everyone should know! Link below!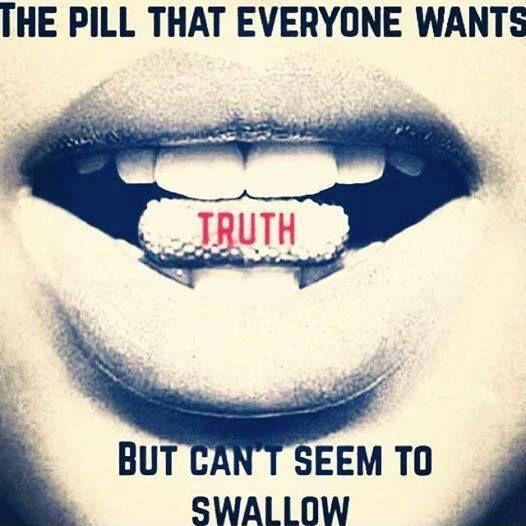 Other Interesting Information
Let me take you back for a minute to when these vaccines were up for approval. The FDA's handpicked acting committee chairman, University of Michigan professor of epidemiology Dr. Arnold Monto, 87, punctuated the dialogue with efforts to hurry it along. Here are two important articles on those first meetings and provides some context to the enormous conflicts of interest and revolving doors of our three-letter agencies. It makes the latest petitions and filings that much more important to get behind. Please take some time this week to review the above Legal updates and sign petitions, add comments to the FDA petition, and support our organizations with a donation or consider getting more active as we continue to aid in the fight for freedom.
https://childrenshealthdefense.org/defender/how-fda-approved-pfizer-covid-vaccine-warp-speed/
https://www.pogo.org/analysis/2020/12/hearing-without-listening/
Other articles and links :https://pjmedia.com/uncategorized/stacey-lennox/2021/05/22/vindicated-study-admits-there-is-a-difference-between-hospitalization-with-and-for-covid-19-n1448644
https://childrenshealthdefense.org/defender/vaccine-treadmill-covid-booster-shots/
https://twitter.com/naomirwolf/status/1376213204691468301?s=21
https://www.theepochtimes.com/mkt_breakingnews/cdc-investigating-heart-inflammation-in-covid-19-vaccinated-teens-young-adults_3826981.html